How to Find the Best NREMT Practice Test
It's a long marathon of study to get to the end of paramedic training, and for many people, crossing the finish line means passing the National Registry (NREMT) exam. Let's take a look at why the NREMT is so important, how the test is structured, and how you can ace it the first time by finding the best NREMT practice test available on today's market.
The Importance of the NREMT Exam
First things first (in case you didn't know): Many US states require passing the NREMT-Paramedic Exam in order to work or volunteer as a paramedic. You can check the National Registry website to find out if your state asks for the NREMT Exam to certify initially or to recertify as a paramedic.
Additionally, some departments and private ambulance services like to see National Registry status to show that their paramedics are up to the job and dedicated to their careers. Being NREMT certified also makes it easier to practice as a paramedic in another state if you ever want to move.
Even if your state doesn't make the exam mandatory, you may still want to take the test. The NREMT is a true test of your knowledge and decision-making capabilities as a paramedic. Many paramedics feel it is their duty to their patients and to the units they ride with to bring the absolute best level of care possible to the field with every call. When you do well on the NREMT exam, you can have confidence in those early months of paramedic service, when you're still learning the ropes and getting used to the challenges of the job. The reason some states have substituted the NREMT exam for a state paramedic exam is that they feel it is an excellent predictor of performance in the field.

Online Study Guides for the NREMT Exam
There are several top-flight websites for NREMT exam preparation that include paramedic-level material. These sites update their questions frequently and have a larger selection to choose from than any of the books on the market. The best sites also have their questions written by working paramedics and EMS instructors, so you get questions that most closely resemble those on the actual exam.
One popular site with paramedic test candidates is EMT National Training. They offer both an online and downloadable study guide and have thousands of questions available for practice quizzes and tests.
Only have a little time to study between classes? You can custom build a 10- to 50-question quiz in any academic area where you feel you need the most work.
When you're ready to take a full simulation exam, EMT National Training makes that easy too. All the practice and exam questions come with an answer key and rationales behind the answers. You don't want to just memorize the material; you want to understand it within the larger perspective of patient care. If you still have questions, you can even get personalized customer service online or via phone from staff members who are working paramedics and paramedic instructors.
When you think about the time and money you've invested in your training so far, a paramedic-level subscription to a site like EMT National Training is quite reasonable:
1 month $69.95

3 month $99.95

6 month $129.95
This particular site offers a pass guarantee, or you can extend your subscription at no additional cost to you until you do pass. This is a feature you should look for with any test preparation site.
NREMT Exam Basics
Like the basic EMT exam, the NREMT test for paramedics is split into two portions: a computerized cognitive test and a psychomotor, or practical, test. The psychomotor assessment consists of various hands-on skill stations where an exam administrator checks you off on different protocols, like resuscitation and wound care. The National Registry maintains a list of all these different advanced-level stations, and you can access the check-off sheets for your own use.
Also like the basic exam, the paramedic NREMT test is broken into five areas of questioning:
EMS operations

trauma

medical (including OB/GYN)

respiratory care (airway, ventilation, and oxygen delivery)

cardiac care (including cardiac arrest and resuscitation)
About 85 percent of the exam is devoted to adult patient material, and the other 15 percent pertains to pediatric care.
The National Registry paramedic exam is comprised of 80 to 150 questions, for which you are given two hours and thirty minutes of testing time. The catch is that the test, which used to be a paper-and-pencil exam, is now a computer adaptive test taken online. This means that after every question, the computer decides whether or not you understand the related material sufficiently.
If you answer incorrectly, the computer will give you another question on the same topic (usually easier); if you answer correctly, you will either get a harder question on the same subject or a new topic altogether. The test needs to determine with 95 percent certainty that you can competently handle all the material. After all, this isn't an abstract or frivolous academic subject but one that deals with life or death consequences.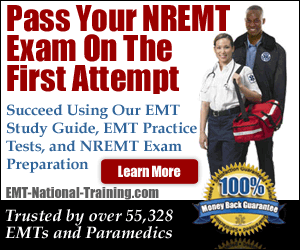 NREMT-Paramedic Study Methods
Everyone has their own study methods for the NREMT exam for paramedics, but you need to make sure you have all your bases covered. You don't want to just barely pass the test—you want to ace it.
A good sign that you're doing well on the exam, by the way, is if the computer cuts you off near 80 questions. It means you've answered most questions correctly, so they system is confident you know the material. The closer you get to 150 questions, the more likely it is that you've answered some incorrectly, and the system is trying to determine if you should really pass. Don't give up, though, if you start approaching 150 questions because you can still pass the test if you demonstrate a strong finish. Some people have a hard time with the computer adaptive testing model at first, and it takes them part of the exam to get used to it.
Your first study aid should be your class notes, which will probably be pretty voluminous after about two years of study. It helps if you can highlight important sections and later mark them with tabs, so you can find them easily when studying. You can do the same thing with your textbooks and workbooks. Any class handouts that you'll use over and over as a reference should go in plastic sheet protectors to keep them intact.
Not only should you download and print off the skills sheets from the National Registry site to prepare for the practical exam but you should use them when you study for the cognitive exam too. There will be questions on the cognitive exam that ask about the order in which steps should be taken, and the skill sheets will help you there. Although you may perform the skills in a different order once you're in the field, for the sake of the exam, memorize them in the order they are listed on the check-off sheet. It will keep you from missing a step and assist you on the cognitive exam too.
Some paramedic students like to use study guide books to sum up their material and find practice questions to test their readiness for the NRETM test. In theory, this is a good idea, although you need to make sure any books you choose have realistic sample questions and are up to date, since the information used for the exam changes whenever the National Highway Traffic Safety Administration (NHTSA) and American Heart Association (AHA) alter protocols. For this reason, many students find online exam prep sites most helpful.
Tips for Acing the NREMT Exam at the Paramedic Level
The NREMT-Paramedic exam is no cake walk, so you want to use everything at your disposal to help you pass it with flying colors the first time. Here are some tips, in addition to those above, to help you find the test easier:
Don't try to cram for the exam—there's just too much material. Take a look at your calendar, and decide when you will have sufficient time once your coursework has ended to study before taking the test.
Remember, there's no going back to questions you left blank with the computer adaptive testing format. Get in the habit of studying in the same way when you prepare for the exam.
Form a study group with classmates to go over material and role play for the practical exam. You can all help each other explaining material you find particularly challenging.
Always understand the reasoning behind any questions you answer incorrectly on practice tests. Don't just try to memorize a bunch of facts and mnemonics.
Unless the answer to a question is "All of the above" or "None of the above," many questions will have two completely implausible answers that you can rule out right away. The remaining two answers may both be feasible, but one is more correct than the other. Your job is to figure out which one that is.
Look for clues within the question that will help you arrive at an answer. Descriptions that indicate you have a critical patient or definitives, like "always" or "never" can change how you need to answer.
After putting so much time, energy, and money into your paramedic training, you may be eager to get going in the field. Follow the suggestions here, and you have a good chance of acing your NREMT exam on the first try, so you can finally wear that hard-won paramedic uniform.
We encourage you to join our Paramedic Training Spot Facebook page!
You Might Also Like: