Paramedic Test Prep for the NREMT Exam
Each up and coming paramedic student will inevitably take the NREMT exam after completion of schooling. The National Registry Paramedic Exam or NREMT is recognized both nationally and in many countries overseas for those wishing to pursue a career in EMS, as well as even overseas paramedic jobs, remote work and flight paramedic fields. When potential employers search a resume, the NREMT certification is often more important than even the paramedic skills listed by the individual.
The computerized exam is designed to assure only students fully prepared as medical professionals are given accreditation and move on to a position in emergency patient care. In order to successfully pass the test, students must devote a fair amount of time to pre-test study and acquire the most accurate paramedic test prep materials available. A fully prepared student will understand exactly what is expected during testing, generate a study plan using accurate materials and stick to the plan in order to complete the certification without repeating the exam.
Paramedic Test Prep
The National Registry Paramedic Exam is designed as a gauge for the new paramedic or EMTs' skills to assure that the medical student is ready for the professional field. The exam is administered on a computer system that will generate 80 to 150 exam questions randomly. The questions are generated from a database of carefully designed topics pulled from the national registry's item bank.
Students will find that the test questions involve six major categories that are essential a potential paramedic can be proficient at:
Airway and Breathing
Trauma
Cardiology
Medical
Operators
OBGYN and Pediatric
While many questions will be multiple-choice, others are scenario-based involving real to life situations a paramedic may encounter in the field. In addition, many questions will involve drugs commonly used by medics on the job, including the dosages, descriptions, precautions, routes of administration and possible contradictions.
Each student will be allotted 2.5 hours to complete the examination.
The test is based on both a passing score and a confidence rating. Once the student reaches 95% confidence, the test will end as the student has proved proficiency in the fields necessary.

NREMT Paramedic Test
One of the most critical steps to passing the exam on the first try is assuring that the student collects the necessary materials. Although this should include notes and books from prior courses, there is a multitude of excellent study material that is geared towards preparation for the NREMT exam specifically. Assuring a passing grade is essential, especially for those considering a career in contract medic jobs both in the U.S and overseas.
There are many great resources a student can find for additional study. Some of the following materials have been rated highly by former students that have successfully passed the NREMT exam and shared their paramedic stories for others to benefit from:
Emssucess.com is a great site for study guides as well as practice tests for a reasonable fee, as well as Online EMT and Paramedic Practice Tests.
In addition to study materials for the six aspects covered in testing, it is important that students also prepare for drug-related questions. Many students struggle with the medication portion of the profession as there are many types and information to memorize. Sites such as Woofmedic.com contain study guides specifically concerning medication listings for paramedics. In addition, drug flash cards can assist with studies and many sites offer both pre-generated cards and those created by the student.
Printable cards are available at woofmedic.com and proprofs.com. Online interactive websites such as Quizlelt.com and Cram.com offer a variety of hands on learning tools for study including flashcards, customizable practice tests and even games. In all cases, students will find that flashcards contain drug names as well as necessary information such as dosages for adults and children, classifications, descriptions, contradictions, indications and precautions.
For students that wish to purchase complete guides including basic NREMT information and drug cards combined, several books including the Emergency & Critical Care Pocket Guide 8th Edition will include much of the necessary exam preparation tools needed to pass. Other practice test websites such as EMTPrep.com contain updated test questions for multiple practice exams.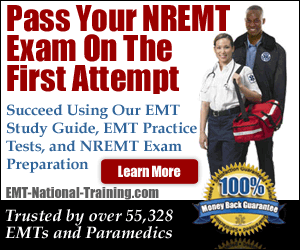 Paramedic Study Guide and Walkthrough
Even when a student acquires all of the essential study tools, having a study plan and devoting time to preparation is the only sure way to pass the NREMT exam on the first try. Plan study times in advance and work around personal schedules as well as any possible internships so that the best can be made of the remaining weeks before test day.
Other helpful tips include:
When scheduling the NREMT exam, students should allow enough weeks to assure all of the materials can be properly studied
Devote time daily to each of the six key aspects of the exam specifically, studying each one individually
Review course materials and study materials several times to assure each topic has been thoroughly covered
On the day of testing, don't try last minute cramming. Bring along a few index cards with difficult materials such as dosages and calculations and review once more before testing.
Take as many practice tests as possible and assure you can master a passing grade before taking the exam
Pre-test preparations should include a good night's sleep and the right frame of mind without distractions. Do not work the night or morning before the test.
When answering questions on the exam remember the practice test concepts and tackle each question individually. Remember to first read the question completely and think in broad terms for scenario questions. Many former students have posted helpful tips that have been acquired from experience with the NREMT so it is helpful to use social media such as Facebook and paramedic blogs for additional advice on passing the NREMT and receive certification to begin a rewarding career in the medical profession.
For more on paramedic training in your local area, be sure to visit Paramedic Training Spot.
You Also Might Like: