What Are the Best NREMT Practice Test Questions?
Regardless of what level EMS provider you'd like to be, you're probably considering taking the National Registry (NREMT) Exam. Read on to learn more about this important step in getting your EMS license, why the NREMT is so important, and how you can find the best practice test questions to ace the exam on your very first try.
Why You Should Seriously Consider Taking the NREMT Exam
Many states throughout the country require National Registry status in order to become licensed as a first responder, EMT, or paramedic. Some states even require passing the NREMT exam to recertify. If you're not required to pass the NREMT exam, however, you may be asking yourself if you should still take it.
The answer to that question is "yes," and here's why:
You want as many affiliations and credentials on your resume and job applications as possible. Fire departments and private ambulance companies like this—it shows you're dedicated, and it makes you look more professional.
In many cases, NREMT certification makes moving to other states for EMS work much easier as those states know you have been held to the highest standard of care possible.
Knowing you have to pass the NREMT exam will help you focus more and study harder in your EMS coursework, resulting in a higher grade.
You can't pass your NREMT exam without understanding the full scope of your course material—to pass the NREMT means you are at the top of your game. This will give you self-confidence in the worst, most difficult situations.
You owe it to your patients and to the other people on your fire/rescue unit to provide the best level of care possible, which is what the NREMT tests for. Do you really want to go out in the field having just squeaked by in your class? Would you want someone like that caring for you in an emergency?

Where to Find the Best NREMT Practice Test Questions
There are lots of books, mobile apps, and websites for NREMT exam prep, but they aren't all equal in quality. One site that wins raves with the 110,000 EMTs and paramedics who have used it is EMT National Training.
EMT National Training's exam prep website hits on all the best study methods you want for the test. You can go over material on their site or download a companion study guide for review when you're away from Internet access. You can put together quizzes from random questions, or you can assemble 10 to 50 questions on topics that give you the most trouble.
Finally, when you're ready to take a practice exam, EMT National Training's tests simulate the real thing as closely as possible. These questions are prepared by working EMTs and EMS instructors, and these folks are there on the customer service end also to answer your questions, should you not understand the rationales that accompany every correct answer in the key.
EMT National Training also offers three interactive skill station study sections to help you with the practical test. Their accurate and comprehensive coverage of the NREMT exam material is what has helped earn them an A+ Better Business Bureau rating, along with their 100 percent pass guarantee. If you don't pass the NREMT exam on your first try, EMT National Training will extend your subscription as long as you need at no additional cost to you.
When you think of all the time, money, and devotion you've invested in your EMS training, don't let studying for the NREMT become a roadblock to success. With subscription packages as reasonable as those at EMT National Training, you can't afford not to use a service like this:
EMR 1 month $39.95

EMR 3 month $49.95

EMT 1 month $49.95

EMT 3 month $69.95

EMT 6 month $99.95

AEMT 1 month $59.95

AEMT 3 month $79.95

AEMT 6 month $99.95

Paramedic 1 month $69.95

Paramedic 3 month $99.95

Paramedic 6 month $129.95
You have too much riding on the NREMT exam not to give it your all or to leave it up to chance. When you take the time to study properly for the test, even a challenge like this can be conquered. And when you know you can handle the NREMT, you are that much closer to becoming an EMT, and you are ready to face what's waiting for you in the field.
For more on the NREMT Practice Exams available online, check out EMT National Training's subscription service.
How the NREMT Exam Works
The NREMT exam is broken into two tests for all level of EMS provider. You will be asked to take a psychomotor exam, also known as the "practical" test, as well as a cognitive exam with multiple choice questions. The practical test doesn't usually freak students out as much as the cognitive exam. First of all, much of your EMT coursework has probably been very hands on, so working through the various stations of the practical exam should feel comfortable to you. Secondly, the National Registry offers you access to the skills sheets that the exam administrators use to check you off on the psychomotor exam. You can memorize these sheets in advance of the test, so you don't miss any steps at the skills stations.
The cognitive exam is another story altogether. Many people dread "sit down" tests, and the National Registry exam has a reputation for being particularly tough. (Remember, it's determining whether or not you are competent to handle real emergencies with live patients.) The NREMT exam has a twist too for all but AEMTs, which makes it even harder.
While all EMS providers now take the cognitive test online, instead of with paper and pencil, EMRs, Basic EMTs, and paramedics all have to take a computer adaptive test (CAT). This means that each answer you give determines the next question you get on the exam. If you answer correctly, the exam moves on. But if you answer incorrectly, you'll keep getting questions in the same category. The computer system needs to know with 95 percent surety that you know the material. Because of the way a CAT is structured, there's no skipping questions and coming back to them later, which is a reasonable strategy many test takers employ.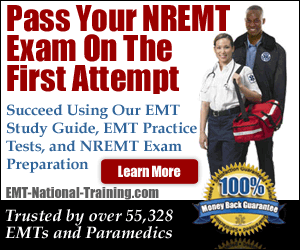 How Most EMTs Study for the NREMT—and Why They Fail
There are lots of reasons many EMTs and paramedics fail the NREMT exam the first or even subsequent times they take it. Let's take a look at some of these, so you don't make the same mistakes.
Some students wait too long between the end of their coursework and the exam. You want to give yourself a comfortable window to study, especially at the paramedic level. But if you wait too long, the information from your courses will be less fresh, and your hands-on skills will be stale too. Some of the best EMS providers know from the outset of their classes that they will be sitting for the NREMT exam, and they are already studying in their heads from the very first module. As soon as you know you're going to take the exam, start getting organized.
Don't forget to use your practical exam skill sheets to help you study for the cognitive exam. Any time a question comes up about the order in which skills need to be performed, you can recall your skill sheets and know the answer.
There are definitely test-taking strategies you can utilize when taking the NREMT exam, and if you don't, you're likely to fail. For example, you need to know whether all the answers are plausible, none of the answers are plausible, or only two are plausible. It's the latter situation that trips up many students. Unless it's "all" or "none," you'll likely be presented with two possibilities, both of which are feasible, but one more feasible than the other. Additionally, certain qualifying words, like "always" or "never," can completely change how questions should be answered.
Some students don't really understand the course material. They go along memorizing mnemonics and acronyms but can't place things like anatomy and algorithms within the larger perspective of total patient care.
Perhaps the most common reason students fail the NREMT exam is because they don't have the right practice questions, if they use any at all. You need to have questions that reflect the current national EMS standards, and they can't be too easy—they need to reflect the content, format, and level of difficulty on the real exam.
What the Best NREMT Study Methods Do
The best study methods for the NREMT exam help you with all the concerns above:
They get you ready for the exam quickly and efficiently, even if you're still taking courses.

They offer help with practical exam skills.

They help you tease out the correct answer to every question, every time.

They help you understand the material behind the questions, so you can put all the pieces together, on the exam and in the field, where it really counts.

They offer realistic EMT practice test questions that mimic those you'll find on the real NREMT exam.
Please "like" Paramedic Training Spot on Facebook!
You May Also Like: