Whether you're planning to work as a professional EMT or as a volunteer EMT with your local fire department, chances are you'll need to pass your National Registry (NREMT) exam to get certified. The NREMT test is a challenging qualification to earn, and many EMS students dread sitting for it, having heard from more experienced EMTs how daunting it is.
In 2013, according to the National Registry, about 70 percent of EMTs passed their NREMT exam on the first try, but the results vary widely by state. This article will take a look at what the NREMT exam is all about and how you can pass on your first try by using computerized training modules, especially those that include the best practice tests available.  We'll also "unpack" the popular EMT prep site EMT National Training and help you walk away with a better understanding of how the study guides and practice exams offered there can aid you once you're ready to take the NREMT examination.
Do you have to take the National Registry test?
Some states do not require the NREMT test, or they only require it to start work as an EMT, waiving it for recertification. Even if the state doesn't require EMTs to take the NREMT exam, some smart departments ask their EMS candidates to take it anyway to make sure they know their stuff.
Heck, even if your department doesn't require it, you may feel like you owe it to your patients to bring your "A" game every time you respond to a call. Do you really want to skate by in your EMS studies, or do you want to feel confident when you're in the field managing emergencies? One way to know you can handle what's thrown at you is to nail the NREMT test. Being able to respond under pressure to questions on the exam is a good first indicator that you will also be able to keep your cool on calls.

How does the NREMT exam work?
The NREMT exam is different for each level of EMS work, from basic to intermediate to paramedic. The basic EMT exam is two hours in length, contains 70-120 questions, and requires a minimum score of 70 percent to pass.
"Wait a minute," you're probably asking, "how can it range between 70 and 120 questions? Doesn't everyone get the same exam?"
The answer to that is no, they don't. In 2007, the National Registry changed the exam from a traditional pencil and paper format to a computerized test. Not only that, they made it a computer adaptive test (CAT).
On an adaptive exam, the computer bases each question on the answer you gave to the previous one. For example, if you are asked, "The tibia is a bone in the _______," and you answer "inner ear" instead of "lower leg," you're going to get more questions about basic anatomy and orthopedics. The computer needs to deduce with a 95 percent confidence level that you know the material in each of the different exam sections:
operations

trauma

medical and OB/GYN

airway, respiration, and ventilation

cardiology and resuscitation
In general, the shorter your exam, the better you probably did on it because you answered the initial questions in each section satisfactorily. If you find yourself answering all 120 possible questions, you still may pass, however, provided you had a strong finish on the exam.
Which websites have the best practice tests?
There are a wealth of websites with NREMT practice questions and tests, but not all of them are of equal high quality. The site EMTprep.com is one popular choice with many EMTs. If offers a large database of questions and scores your exams on the spot, so you always know how you're progressing in your test preparation. It also provides subscribers with a 100 percent pass guarantee.
Another extremely thorough site favored by seasoned EMS personnel is EMT National Training. The site has an excellent reputation with more than 110,000 EMTs and paramedics, an 8.9 out of 10 rating on Bizrate, and an A+ rating with the Better Business Bureau (BBB). They offer study guides and practice exams for all level of responder. Their bank of over 3,000 questions was compiled by working EMTs and paramedics, as well as EMS instructors, and you can enjoy instant scoring of your practice exams there too.
Furthermore, EMT National Training lets you select from 10 to 50 questions in any of the exam categories to create mini exams in the areas where you need the most help. While it's great to take their simulation of the full exam, sometimes you want to be able to focus on your most challenging material. You may not need to answer question after question about cardiology when respiratory emergencies are causing you difficulty.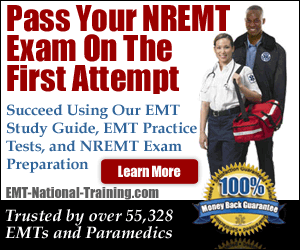 EMT National Training allows for tiered subscriptions depending on your exam level and how far in advance of the NREMT exam you plan to study:
EMR 1 month $39.95

EMR 3 month $49.95

EMT 1 month $ 49.95

EMT 3 month $69.95

EMT 6 month $99.95

AEMT 1 month $59.95

AEMT 3 month $79.95

AEMT 6 month $99.95

Paramedic 1 month $69.95

Paramedic 3 month $99.95

Paramedic 6 month $129.95
Once you purchase a subscription package, you simply log in and head to the section you need on that day to create your practice session. Unless you wish to download the optional included study guide, all the material is on EMT National Training's site, so you don't have to worry about computer memory or storage issues. The site is compatible with both Windows and Mac operating systems.
If you answer any practice questions incorrectly, you'll be given the rationale for the proper answer. And if you are still puzzled by any of the material, EMT National Training offers stellar customer service by phone during business hours or offline at any time through their help center.
To download Online EMT and Paramedic Practice Tests, head over to EMT National Training and sign up for their subscription service.
How should you study for the NREMT test?
The hypothetical question above is only one type typically seen on the NREMT exam—many are more complicated and therefore more difficult to answer. For example, you may get a scenario-based question such as, "You respond to a call with a 70-year-old female who was found on the ground and reports having blacked out. A large gash is visible on the patient's head and she is tachypneic (rapidly breathing in an abnormal way). What do you think most likely happened?"
You'll probably be able to eliminate one or two answers right away based on their absurdity or unlikelihood, but it's easy to doubt yourself under pressure.
By doing practice tests, you'll learn that the most straightforward answer is usually the right one. You'll also learn about situations where "All of the above" can be a correct answer.
It helps to run a bunch of these scenarios to get the hang of them and to feel more trusting of your intuitive responses based on your studies. Study guides that offer compact reminders of your material (like body systems, mnemonics, and standard treatment algorithms) and practice questions are the best way to study for the NREMT test.

Where can you find practice tests?
While it used to be that you had to study for exams like the NREMT by either concocting your own system, forming a study group, or buying a book, nowadays you can find numerous websites that help you review material and that offer practice tests. The best of these sites most importantly provide sample exam questions that are closest to the real NREMT test.
Secondly, the best sites have carefully combed their answers and review sections to ensure that you only receive correct information in keeping with the most current US DOT (United States Department of Transportation) National Highway Traffic Safety Administration (NHTSA) and American Heart Association (AHA) standards for EMS care. These are the ultimate national authorities when it comes to EMS treatment protocols, determined by clinical data and field statistics. When you get a practice question wrong on one of these top exam prep sites, they'll provide you with the rationale behind the correct answer, so you understand why the question needed to be answered a certain way. Ideally, this won't just help you pass your NREMT exam, but it will help you working with real patients in the field as well.
What about studying on the go?
A nice feature of EMT National Training is that your subscription will also work on your tablet or smart phone. If you're studying for your NREMT exam while finishing EMT classes or working, and your time is at a premium, being able to do a few questions when you have a break is a great way to get in some study time. Mobile apps for NREMT study are ideal for quickie review sessions as well as for those who don't have access to a computer.
Pocket Prep also sells highly rated NREMT exam apps for different EMS levels. You can somewhat customize the package you want by selecting various in-app purchases. These apps are available for a range of mobile device operating systems and, like EMT National Training, offer practice tests. You won't get quite the range of questions you do with EMT National Training (Pocket Prep maxes out at 800 questions), but for a student on a very limited budget, these apps are good for giving a realistic feel for the exam.
With so much on the line, it's wise to start your NREMT exam study as soon as possible. The quicker you can start thinking of course material in terms of the test, the more ready you'll be on exam day. And the more ready you are for your NREMT exam, the better prepped you'll be to handle real calls when that pager goes off.
Paramedic Training Spot offers readers in-depth articles to help better explain the overall process of becoming an EMT or paramedic.
You Might Also Like: