What's the Best EMT Study Guide?
Many states require new and sometimes recertifying EMTs to pass the National Registry (NREMT) exam before they can begin work in the field. This is to make sure that the candidate is truly ready to treat live patients and has absorbed enough of their EMT-B training to actively help and not hurt anyone they care for.
While different colleges and other EMS training programs have varying criteria for passing a basic EMT class, the National Registry holds everyone to the same standards across the entire country—standards that are developed by the National Highway Traffic Safety Administration (NHTSA), a division of the United States Department of Transportation, and the American Heart Association (AHA).
Why You Should Take the NREMT Exam
Given the rigorous standards for this test, which is given as both a cognitive exam and a psychomotor exam, even if it is not required by your state, it's a good idea to take it anyways. Why?
Knowing you have to take a national standardized test will make you up your game in your EMT class, and you may get a better grade.
Having National Registry status makes it easier to move to many other states to work as an EMT. If you're not sure if your state has enough EMS work for you, or if you think you might be moving out of state in the future, the NREMT certification is an asset on your resume.
If you want to work as a professional EMT, it shows potential employers you are serious about your career.
Many volunteer fire departments require National Registry certification to ride with them.
You will know you have done your best to provide the best patient care possible once you start working in the field. And if you can stay calm and collected during this challenging exam, you are one step closer to maintaining the right demeanor on trying calls.

Where to Find High Quality Online NREMT Test Preparation
There are an abundance of NREMT test prep sites on the Internet today, so you need to do a bit of digging to see which ones are of the standard you want and have high ratings from other EMTs. Look for sites with comprehensive study guides, a large bank of sample questions, and stellar customer service should you have a question.
One very popular site is EMT National Training. With an A+ Better Business Bureau (BBB) rating and over 3,000 practice questions just like you'll find on the NREMT test, it's one of the more thorough sites out there. You can download a study guide and practice exams for first responder, basic EMT, advanced EMT, and paramedic level practice or work off their site from a computer or mobile device. Your exam progress can be tracked too, so you'll know whether or not you're improving as time goes on.
If you just have a bit of study time between other activities, you can create a custom exam of 10-50 questions to work on your most difficult areas of study. All the questions come with the rationales for the correct answers, but you can phone or email their professional staff for further explanation if that's not enough.
When you're ready for a full-length simulation exam, EMT National Training has that as well. Once your simulation exam is scored, you'll see exactly how you fared in each section of the test. The National Registry divides the test into five topic areas, with approximately 20 percent of the questions in each area. You need to pass each topic competently, and of course, you want to know you can handle these areas in the field too, once you start work with an ambulance service.
Given what's on the line with the NREMT exam and how much you've invested in your training, the EMT National Training subscription prices are pretty reasonable:
EMR 1 month $39.95

EMR 3 month $49.95

EMT 1 month $ 49.95

EMT 3 month $69.95

EMT 6 month $99.95

AEMT 1 month $59.95

AEMT 3 month $79.95

AEMT 6 month $99.95

Paramedic 1 month $69.95

Paramedic 3 month $99.95

Paramedic 6 month $129.95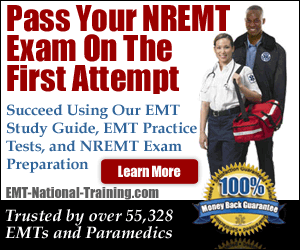 If you're looking for a slightly less pricey, even more mobile test prep site, Pocket Prep offers apps for both iOS and Android users that can be instantly installed on your phone or tablet for study on the go. You can customize your study plan by making different in-app purchases in the $10.99 to $12.99 range. They have 800 practice questions to select from, which is a decent amount for the money. Users on the Google Play Store and Apple Store consistently rate Pocket Prep's apps very well.
How you study for the NREMT exam can radically affect your test outcome. Don't wait until the last minute to study, and don't try to guess at the type of questions you'll be asked when there are plenty of sophisticated resources to give you precise exam preparation. Armed with good class notes, a structured study plan, and an online EMT study guide with practice questions, you can pass the NREMT exam with flying colors the first time you take it and get out in the field where you really want to be.
To download EMT Practice Tests, head over to EMT National Training and sign up for their subscription service!
How the NREMT Exam Works
The cognitive, or "sit down," portion of the NREMT exam lasts for roughly two hours (it varies depending on your EMS level). This used to be a paper-and-pencil type of exam, but it was changed in 2007 to a computer adaptive test. This means that students take their tests online, and after each question, the computer decides what the next question will be—it's not predetermined. If you answer a question about resuscitation incorrectly, for example, you'll get another question about the same topic. If not, you'll get a question on a different subject.
The computer wants to know with a 95 percent confidence level that you honestly know all the required material for NREMT certification. Therefore, the EMT-Basic exam can range from 70 questions to 120. Questions will jump around between all the necessary areas of examination: 1) EMS operations; 2) cardiology and resuscitation; 3) trauma; 4) medical and OB/GYN; and 5) airway, respiration, and ventilation.

How to Approach Studying for the NREMT Exam
The NREMT exam can be daunting in its length, intensity, and comprehensiveness. That means you want to start preparing for it as soon as possible. If you know at the outset of your EMS training that you'll be sitting for the exam, you can start readying your materials in advance. Some strategies you can employ include:
starting a study group with other classmates

asking a certified EMT you know who did well on the exam to mentor you

making flash cards or index cards for important points

purchasing an anatomy and physiology coloring book to reinforce memorization

subscribing to an online study guide (see next section)
You want to keep all your class notes and make sure you stay current with your course assignments. As new material is presented, try to understand the "why" behind the protocols you learn, rather than just trying to memorize them. When you can put all the pieces together, you'll do better on the NREMT exam and better in the field too.
An example of this is understanding the process of hypovolemic shock, where the body goes into shock from blood loss, a common situation with serious trauma patients. When you comprehend how cardiac output works (stroke volume x beats per minute [or heart rate]), it makes sense that a patient in shock would have a rapid pulse to compensate for the reduced stroke volume with each heartbeat.
Why You Should Use Online Study Guides
Do you feel overwhelmed by the volume of information on the NREMT exam? Did you miss sections or do less than well on them in class? Are you not sure what types of questions will be on the test? You are the perfect candidate for an online NREMT study program; in fact, these subscription systems and apps are great for anyone who wants to do well on the test and ace it on the first try. Many EMS students are disappointed when they purchase a study book to supplement their notes, but it doesn't cover everything on the exam or give realistic sample questions. You don't want to fail the exam because you were under-prepared for it.
The best online EMT exam prep sites provide study materials and practice tests that are prepared by people currently working in the field and teaching EMS. That means you'll get sample questions that are just like those on the NREMT test, not something that's too easy or off topic. Some cheap sites even have wrong answers to their questions, so you want a program that only offers information up to the current NHTSA and AHA standards.
Please bookmark Paramedic Training Spot for more details.
You Might Also Like: