What's the Best NREMT Test Prep?
You can't surf an EMS forum these days without seeing a thread about the NREMT exam—whether to take it, how hard it is, and what the best test prep methods are. If you're confused about this monster test, here's some information for you to help turn the monster into a mouse and pass on your first try, whichever level of provider you want to be.
Why You Should Take the NREMT Exam
There's no doubt that the NREMT exam is the subject of hot debate. If you live in a state that requires National Registry status for your license, you have no choice but to sit for the exam. However, if you're not mandated to take it by your government or your organization, should you take it anyways?
The answer is a resounding "Yes!" If you're thinking of working as a professional EMS provider, NREMT certification demonstrates that you take your career seriously and that you are up to the high standards set by the NHTSA (National Highway Traffic Safety Administration) and the AHA (American Heart Association). The United States Department of Transportation, which oversees the NHTSA, would like for all EMS providers to have uniform high standards, as proven by passing the NREMT test. That's one reason many states have National Registry reciprocity, making it easier to take your license from one state to another.
Even if you're going to be "just" a volunteer, you may be working as many calls as a pro, and they may be just as serious. Wouldn't you like to know you have the knowledge and the skills to handle whatever the field throws at you? Don't you owe it to your patients and your colleagues?

Where to Find the Most Helpful Practice Questions
Answering realistic practice questions is one of the best ways to prepare for the NREMT exam. There's a trick to answering many of the questions; sometimes there are two plausible answers, but one is more plausible than the other. Test prep systems that help you understand the rationales behind correct answers are the most helpful when studying for the NREMT.
The ability to assist EMS students put their learning into context and to suss out the proper exam answers is one reason so many EMTs and paramedics like EMT National Training. This website offers study guides and practice tests for EMR, EMT-Basic, AEMT, and Paramedic levels, and the site is highly customizable to your needs. If you want to focus on areas where you need help most, you can create quizzes of 10 to 50 questions each. You can also take random practice quizzes and full-length simulation exams.
You'll get a key that explains each correct answer, and if that isn't enough, you can contact customer service via email or phone for further clarification. You'll get explanations from working EMTs or paramedics and EMS instructors, and that's who develops the questions for EMT National Training too. That's why their NREMT practice questions are so much like those you'll see on the real exam.
There are a host of other reasons why 110,000 EMTs and paramedics have made EMT National Training their first choice when studying for the NREMT exam:
a 100 percent pass guarantee that will extend your subscription for free if you don't pass the exam the first time around

test tracking to monitor progress over time

an A+ rating from the Better Business Bureau (BBB)

a 9 out of 10 rating on more than 100 Bizrate reviews

three new interactive skill station sections to help with the practical exam

a downloadable study guide for times when you need to study offline

reasonable subscription packages that start with one month at $49.95 for EMTs and $69.95 for paramedics

group discounts

secure and encrypted payment transactions

additional exam prep, such as fire fighter, and EMT refresher courses, as well as EMS continuing education modules

links to all state EMS systems, with detailed contact information for important personnel
To inquire more about NREMT Practice Exams Online check out EMT National Training.
How the NREMT Exam Is Structured
The NREMT test is divided into two sections: a psychomotor exam, more commonly called the "practical" test, and a cognitive exam of multiple choice questions given online. The practical exam consists of skill stations that test your hands-on abilities managing trauma, respiratory care, resuscitation, and the like. A test administrator has a checklist to ensure that you cover every appropriate step at each station for the given scenario (they provide information as necessary) and that you do not make any inappropriate interventions. Most people are pretty comfortable with this part of the test because their coursework is largely practical in nature and because the hands-on aspect of EMS work is what drew them to it in the first place.
The cognitive exam is usually where people fail the NREMT, and roughly one third of all prospective EMTs and paramedics do. To make matters worse, this "sit down" test has been changed from a paper-and-pencil test to a computer adaptive test (CAT) for all but AEMTs (who may have the same fate befall them soon). The CAT format means that you can't go back and change answers or save difficult questions for later because each question you receive is determined by your response to the previous one.
On the computer adaptive NREMT exam, if you answer a question incorrectly, the system thinks you might not really know the material, which could put a patient's life in danger. So, it will ask another question on the same topic to be sure. The NREMT wants to know with 95 percent certainty that you are capable of working safely and effectively in the field. When you answer questions correctly with the CAT model, the test either gives you a harder question on the same topic (great, right?), or it moves on to another area altogether. The five areas covered on the test include:
trauma

medical and childbirth emergencies

EMS operations

respiratory care (airway, respiration, and ventilation)

cardiac care (including resuscitation protocols)
About 15 percent of the material on the NREMT exam pertains to children, while about 85 percent is geared towards care of adults. Depending on your EMS level, you'll have roughly two hours for the exam, give or take, and you'll get between about 70 and 120 questions. In general, the fewer questions you get, the more confident you can be that you're answering correctly, so don't worry if the exam cuts you off before you reach the maximum. And if you do get all the questions for your level, don't give up because you can still pass if enough are correct at the end of the exam.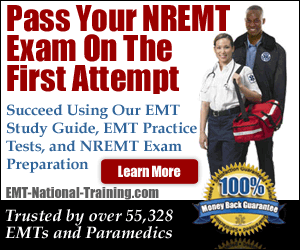 How to Study for the NREMT Exam
Your study for the NREMT should include a variety of methods and should be undertaken far enough in advance of the exam to comfortably cover all the material. The following are some successful strategies, especially when used in combination with each other:
reviewing class notes
self-quizzing with flash cards
forming study groups for quizzing and role playing (great for the practical exam)
buying study guide books
listening to audio courses, lecture recordings, and medical podcasts (ideal for paramedic courses with a huge volume of material to review and integrate)
working with an EMS mentor or tutor who has successfully passed the exam
utilizing your skill sheets from the practical exam to reinforce the order of steps for care discussed on the cognitive exam
using mobile device apps for quizzes and topic review
signing up for an online test prep system to go over didactic material, take quizzes, and try practice tests
Why Some Study Methods Fail
The key to success with any of the above methods is not to rely on just one and to pick the best quality study materials. When people use these methods and still fail the NREMT exam, there are usually clear reasons for it. You don't want to wait until you have failed the exam one or more times to figure out why your study methods aren't cutting it.
For example, some EMTs don't take reliable notes, don't know how to study from their notes, or aren't enrolled in a particularly challenging program, so this source of information isn't very helpful. Likewise, many books claim to be great for prepping you for the exam, but in fact, they are outdated or don't have practice questions that are as difficult as those you'll find on the exam. You need an EMT practice test that most closely resembles the actual NREMT.
Whether your goal is to be a first responder, a paramedic, or something in between, taking the NREMT is one way to know if you have what it takes to handle emergencies and save lives. Don't let poor study methods get in the way of your NREMT success. When you follow the suggestions here and use a reputable, high-quality test prep system, you'll be one of those EMTs who pass the NREMT exam on the first try and go on to excel in the field.
Please "like us" on our Paramedic Training Spot Facebook page!
You Also Might Like: